The new Model 138A was designed for applications where the 137A does not have enough capacity and the 139A is larger than needed in capacity and physical size.
New Combination Connection Options available: ODS or BW
Installation Instructions:  ODS/Butt Weld Connections
Features
Model 138A has 1.5 times the capacity of the 137A yet is the same diameter as the 137A and does not require any additional floor space.
The 138A is about 168 mm taller than the 137A.
Part #
Model #
Max. Working Press.
A
Dim.
B Dim.
C
Dim.
D
Dim.
E
Dim.
F
Dim.
G Dim.
H Dim.
I
Dim.
Oil Sensor/
Port
Inlet
Outlet
Height
Sensor
Inlet/
Outlet
 Dia.
Dia.
Oil Return
013801380
138A
140 bar
2030 PSI
131 mm
5.1″
171 mm
6.7″
752 mm
29.6″
870 mm
34.2″
3/4″ FPT*
1-1/2″
MPT*
141 mm
5.6″
216 mm
8.5″
1/4″ FPT*
013801381
138A
140 bar
2030 PSI
132 mm
5.2″
174 mm
6.9″
752 mm
29.6″
870 mm
34.2″
3/4″ FPT*
1-1/2″
BW*
141 mm
5.6″
216 mm
8.5″
1/4″ FPT*
* FPT = Female Pipe Thread, MPT = Male Pipe Thread,  BW = Butt Weld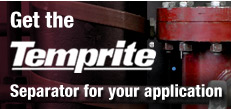 Choose the right Temprite conventional or coalescent oil separator using the Product Selector. Fill in the blanks with your system specifications and the Selector does the work. Selector results include details on the specifications input, allowing you to save and print your work.
Temprite's Quick Sizing Charts can be printed and downloaded.
Resource Documents:
Temprite Customer or Technical Support: Contact Us.