Compatible with traditional refrigerants, new blends and natural refrigerants.*
* Traditional refrigerants such as R-22 and blends like R-404a; new blends such as R-427a and R-448a; and natural refrigerants such as ammonia (NH3) and CO2.
Connection options available: ODS, BW or MPT.
Connection options: ODS/Butt Weld/MPT Connections
Metric sizes also available: contact us.
Part #
Model #
Max. Working Press.
A Dim.
B Dim.
C Dim.
D Dim.
E Dim.
F Dim.
G Dim.
H Dim.
I Dim.
Oil Sensor/Port
Inlet
Outlet
Height
Sensor
Inlet/Outlet
 Dia.
Dia.
Oil Return
013801380
138A
140 bar
2030 PSI
131 mm
5.1″
171 mm
6.7″
752 mm
29.6″
870 mm
34.2″
3/4″ FPT*
1-1/2″
MPT*
141 mm
5.6″
216 mm
8.5″
1/4″ FPT*
013801381
138A
140 bar
2030 PSI
131 mm
5.1″
171 mm
6.7″
752 mm
29.6″
870 mm
34.2″
3/4″ FPT*
1-1/2″
BW*
141 mm
5.6″
216 mm
8.5″
1/4″ FPT*
013804382
138A
140 bar
2030 PSI
131 mm
5.1″
171 mm
6.7″
752 mm
29.6″
870 mm
34.2″
3/4″ FPT*
1-5/8″
ODS*
141 mm
5.6″
216 mm
8.5″
1/4″ FPT*
*FPT = Female Pipe Thread, MPT = Male Pipe Thread,  BW = Butt Weld, ODS = Outside Diameter Solder
THE CONNECTIONS ON THE OIL SEPARATOR MUST BE THE SAME SIZE AS (OR LARGER THAN) THE DISCHARGE LINE SIZE.
Temprite's 920 & 920R Series of products are suitable for CO2 subcritical applications up to 44.8 bar (650 PSI) and ammonia (NH3).
Specifications
Application range: suitable for CO2 (R744) transcritical high- medium- and low-temperature applications
Dual function: filters dirt out of the refrigerant and oil; separates the oil from the refrigerant gas
Maximum operating pressure: 140 bar (2030 PSI)
Efficiency: nominal 98.5%+ separation efficiency rating
Filtration: Sub-micron particulate retention rating
Connection sizes: 1/2″ MPT to 2″ (MPT or Butt Weld), 5/8″ to 2-1/8″ (ODS)
Advantages
High Efficiency: most efficient oil-refrigerant filtering and separation technology with a 98.5%+ separation efficiency rating across the widest range of mass flows.
Energy-Saving: minimizes the amount of oil in the evaporator, improving heat transfer efficiency.
Cost-Saving: ensures shorter compressor run times.
CE Marked: complies with the European Pressure Equipment Directive; UL, ULC, CRN, CE, ASME and KHK approved.*
 *Contact Temprite for individual product certification details.
Easy Filter Changing: removable top plate allows for easy filter changing after it captures excess dirt circulating in the system.*
*Model 131 is hermetic and the filter is not accessible for changing. 
Individually Adjustable Mounting Feet: allow for variable field leveling and adjustment.
Internal Oil Level Monitoring: the integral oil reservoir and sensor port allows monitoring of the internal oil level and the controlled return of the cleaned oil to the compressor crank case for continued lubrication of the moving parts.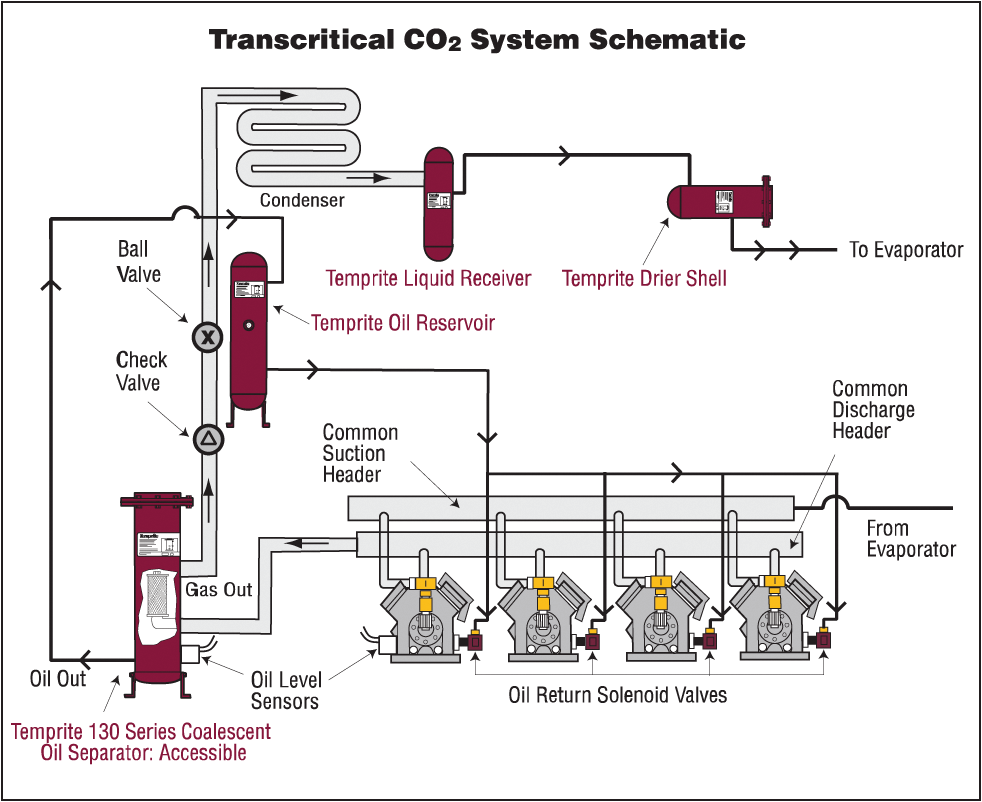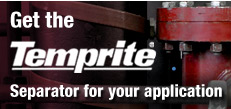 Choose the right Temprite conventional or coalescent oil separator using the Product Selector. Fill in the blanks with your system specifications and the Selector does the work. Selector results include details on the specifications input, allowing you to save and print your work.  Temprite's Quick Sizing Charts can be printed and downloaded.