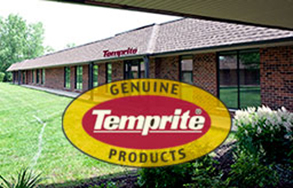 Temprite specializes in energy-efficient coalescent and conventional oil separators, oil reservoirs, drier housings, liquid receivers, suction accumulators and refrigerant oil management products for all refrigerants, including traditional and natural refrigerants: ammonia (NH3), carbon dioxide (CO2), and hydrocarbons (HCs).
Refrigeration units work best when they are clean and operating at maximum efficiency: You save money and reduce your carbon footprint.  Temprite refrigeration components are engineered for maximum efficiency and performance and manufactured to the highest quality standards.
With Temprite products, your system will:
Perform at maximum refrigeration
Consume less energy
Emit less carbon
Provide the highest possible return on investment
Our Company
Founded in 1924, Temprite has consistently delivered innovative products, designed and manufactured for long-lasting, dependable performance.  Temprite designed the first oil separator for commercial refrigeration in 1948, and the first coalescent oil separator in 1988.  The first components designed for transcritical CO2 were introduced in 2006. Oil reservoirs and drier housings for transcritical CO2 applications were brought online in subsequent years.
The 2010's saw emphasis and growth in new products for natural refrigerants, and expansions into new product lines including liquid receivers (vertical and horizontal), suction accumulators, and air-water separators.
The start of the 2020's will bring larger vessels for ever-expanding refrigeration system capacities, and continued refrigeration technology innovations!
Staying Ahead of a Changing Market
We work with our customers, using your input to continually provide products that meet the changing needs of a dynamic market.  Temprite products meet the standards for new manmade and natural refrigerants, (including CO2, ammonia and HCs). The experience and expertise of Temprite engineers guarantee you have the products that work in the best configuration for your system.
Dependable, proven performance – that's Temprite
Temprite provides the highest quality refrigeration components products available, as well as the best operational specifications available, worldwide.
Product Certifications
Temprite's products have been UL-listed for decades. Since December 2001, all products conform to the European Pressure Directive (PED). As customer refrigeration systems can vary greatly, each Temprite design is engineered and thoroughly tested to ensure consistent performance and durability. Every time there's a new performance or safety standard to meet, Temprite products help customers meet it. Temprite products carry one or more of the following certifications:

International Distribution
The Temprite plant is located in West Chicago, Illinois, USA, with distribution facilities in Tokyo, Japan; Rotterdam, The Netherlands; Stuttgart, Germany; Ankara, Turkey; Bangalore, India; and Sydney, Australia. Temprite has worldwide distribution through wholesalers and direct sales to original equipment manufacturers, retailers and medical organizations, and through strategic partners in the United Kingdom, Japan, Germany, Turkey, India, Australia, and Vietnam.