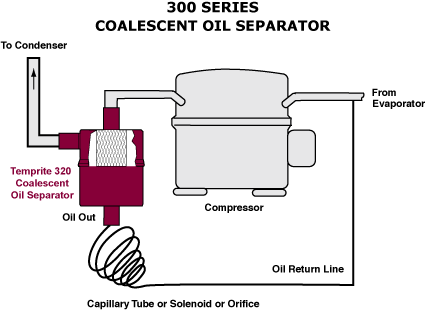 Compatible with all traditional refrigerants including HCs and Subcritical CO2.
Temprite's 300 Series of hermetic coalescent oil separators have the advantage of being one of the smallest oil separators available for their capacity.  Originally designed for refrigerant recovery/reclaim systems, 300 Series units are often used in the scientific field for ultra-low critical temperature ranges.
320 and 340 Series units are 99.995% efficient in removing particulates between 0.3 and 0.6 microns (μm) and separating oil from the mass flow.  The elimination of the float ball and internal oil reservoir maximizes efficiency by minimizing oil carryover.
Metering the oil return back to the compressor may be done by a variety of methods including a capillary tube, a metered orifice or a timed solenoid.