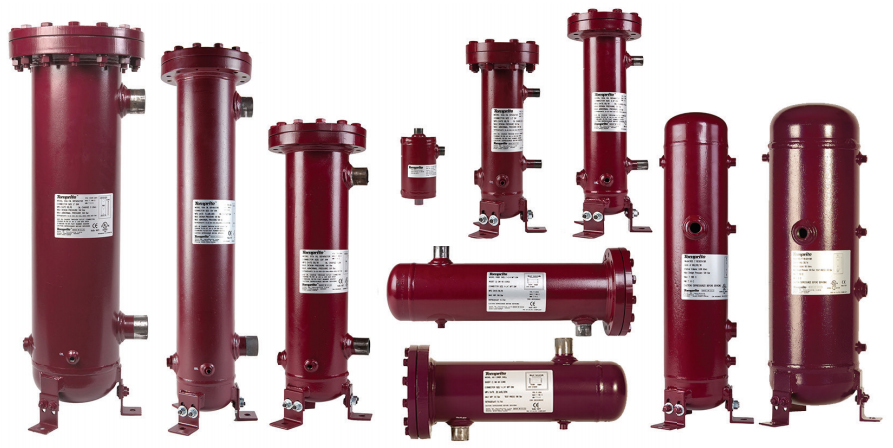 Temprite engineers work with customers and specialists in the CO2 field to develop innovative products that increase the efficiency and system life of leading-edge refrigeration technology. Let Temprite know what you need for your CO2 system. We can produce liquid receivers and other high-pressure components for CO2 applications to meet customer requirements.


Temprite's 130 Series addresses the unique and challenging demands of CO2 systems. The 130 Series of coalescent oil separators are designed specifically for transcritical CO2 systems and optimized for transcritical refrigeration applications.*
Performance Tested
The 130 Series are the first coalescing oil separators created for transcritical CO2 to undergo performance testing at internationally recognized testing organizations, proven to perform the best of any filtration and separation technology. There are seven different sizes of oil separators spanning applications as small as laboratory systems up to the largest industrial applications.
Model 239A Designed for Industrial Size Refrigeration Systems
Temprite is pleased to announce the launch of its new Model 239A accessible coalescing oil separator for transcritical CO2 applications.
Building on the success of the existing 130 series products, the Model 239A can handle twice the refrigeration capacity of the model 139A, but it does not take up twice the space. It utilizes the same high efficiency coalescing filter technology that makes the Temprite 130 series oil separators so effective.
The capacity of the Model 239A is ideal for industrial-sized systems such as refrigerated warehouses, large ice rinks, or sporting venues.
Reservoirs
In addition to a range of five different sizes of separators, Temprite developed the RES7 and RES17 Reservoirs and the 48-2-1 and 48-2 Drier Shells specifically for transcritical CO2 applications.
The RES7 and RES17 are 7- and 17-liter oil reservoirs, each with a service rating of 140 bar (2030 PSI).
The 48-1 and 48-2 drier shells have a service rating of 140 bar (2030 PSI).
The 48-2 can handle one or two size 48 D filter cores.
Model 138A: Increased Capacity in Same Space
The Model 138A has 1.5 the capacity of the 137A, but since it has the same diameter it doesn't require additional floor space.
* Both the 920 & 920R Series can be used in subcritical applications up to 45 bar (650 PSI).
Model 139A Designed for Larger Commercial Refrigeration Systems
The new 139A separator brings maximum thermal efficiency to large CO2 refrigeration systems. With twice the separation capacity of the Model 137A, large-rack refrigeration users may find that one 139A will replace two 137A oil separators.
130 Series for CO2
Specifications
Application range: suitable for CO2 (R744) transcritical high- medium- and low-temperature applications
Dual function: filters dirt out of the refrigerant and oil; separates the oil from the refrigerant gas
Maximum operating pressure: 140 bar (2030 PSI)
Efficiency: nominal 98.5%+ separation efficiency rating
Filtration: Sub-micron particulate retention rating
Connection sizes: 1/2″ MPT to 2″ (MPT or Butt Weld), 5/8″ to 2-1/8″ (ODS)
Advantages
High Efficiency: most efficient oil-refrigerant filtering and separation technology with a 98.5%+ separation efficiency rating across the widest range of mass flows.
Energy-Saving: minimizes the amount of oil in the evaporator, improving heat transfer efficiency.
Cost-Saving: ensures shorter compressor run times.
CE Marked: complies with the European Pressure Equipment Directive; UL, ULC, CRN, CE, ASME and KHK approved.*
 *Contact Temprite for individual product certification details.
Easy Filter Changing: removable top plate allows for easy filter changing after it captures excess dirt circulating in the system.*
*Model 131 is hermetic and the filter is not accessible for changing. 
Individually Adjustable Mounting Feet: allow for variable field leveling and adjustment.
Internal Oil Level Monitoring: the integral oil reservoir and sensor port allows monitoring of the internal oil level and the controlled return of the cleaned oil to the compressor crank case for continued lubrication of the moving parts.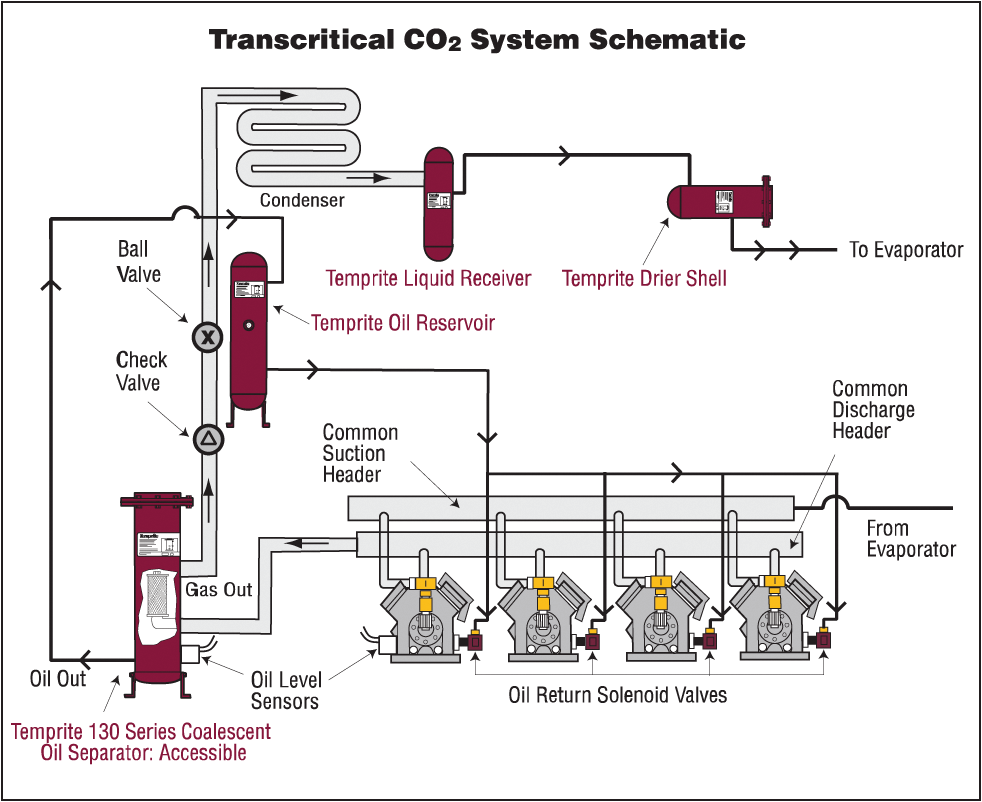 Temprite Innovation Meets the Challenge of CO2 (R744)
CO2 is inexpensive and environmentally friendly but using CO2 as a refrigerant presents several challenges.
---
Challenge: High-Pressure System
Most traditional refrigerants have a maximum pressure rating of around 31.0 to 34.5 bar (450 to 500 PSI), but in CO2 subcritical applications, pressures could exceed 131 bar (1900 PSI).
Series 130 Beats High Pressure
Temprite's 130 Series offers a range of products for transcritical applications up to 140 bar (2030 PSI).*
130 Series coalescent oil separators create an efficient, cost-effective reliable system that accommodates typical system operating pressures.
*The 920 & 920R Series of products are suitable for subcritical applications up to 44.8 bar (650 PSI).
---
Challenge: CO2 is "Dirtier"
High-pressure systems such as CO2 tend to have system-connecting lines made from pipe instead of tubing. Pipe is inherently dirtier than tube and requires welding versus the cleaner brazing process associated with tubing. This means more dirt in the system.
CO2 + Series 130 = Clean & Green
Temprite's Series 130 coalescing filtration and separation technology removes dirt from the system better than any other product.
Series 130 coalescent oil separators separate and clean oil at a nominal 98.5%+ efficiency level.
Series 130 separators can be used efficiently in larger systems.
High separation efficiency allows a smaller oil reservoir to be used.
---
Challenge: High-Density
CO2 has a much higher density than traditional refrigerants, making it more difficult to separate the oil from the gas and requiring a better separation process.
Temprite Innovation Handles High Density
The 130 Series coalescing and separation technology has been proven in laboratory and application testing to be superior to other conventional separators.