| | |
| --- | --- |
| Part Number | Model |
| 83004201 | TR4201 |
| 83004202 | TR4202 |
| 83004203 | TR4203 |
Traxoil Electronic Oil Level Controls Operation
TR4 and TR5 are fully level controlled. The sight glass of each device is divided into three operational zones. When the level reaches the yellow zone (Yellow) the TR starts filling after a time delay of 10 sec. A further level drop to the red zone (Red) will switch the alarm relay after a time delay of 20 sec/120 sec. The current status is indicated with the 3 LEDs according to the following table:
Operating Condition/Status
Function
Contact Position
LED
Supply power is off or normal oil level (<50%)
OK
BK-BU close
BK-BN open

●

Green
Oil Level (close 40%)
Injection

●

Green


●

 Yellow
Oil Level < 40%
Injection

●

Yellow
Oil level too low < 30%
Alarm + Injection
BK-BU open
BK-BN close

●

Red


●

Yellow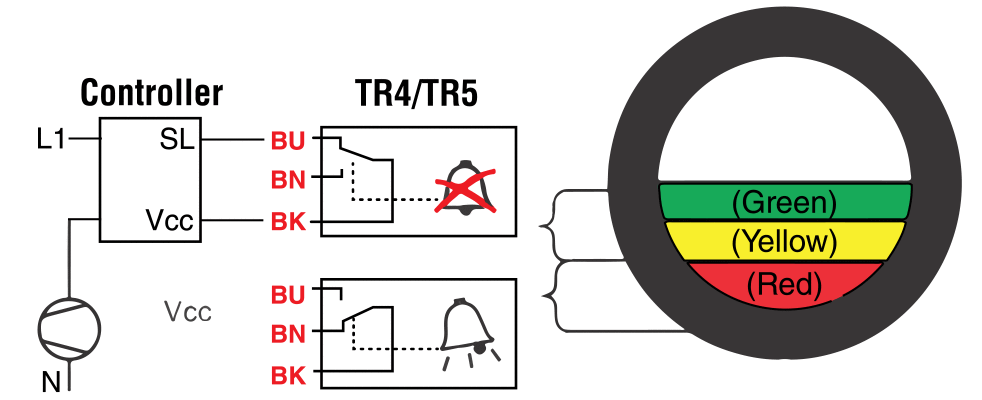 Technical Data
TR4
TR5
Max working pressure PS
870 Psig
1885 Psig (inlet), 1450 Psig (outlet)
Solenoid coils/Supply voltage
ASC3-24VAC: 24VAC±10%, 50/60 Hz, 17VA
ASC3-24V-60Hz: 24VAC±10%, 60 Hz, 35VA
Solenoid valve max MOPD at
24VAC -0%
435 Psig (50 Hz, ASC3-)
290 Psig (60 Hz, ASC3-)
1450 Psig  (ASC3-24V-60Hz)
Flow Rate and Differential Pressure between inlet and outlet TR5
(Oil type Reniso C85E, oil temperature 54°C)
0 Supply Voltage 24V -0% (60Hz)

Supply Voltage 24V -10%(60 Hz)

Current
0.7 A
Alarm contact rating
3A/230 VAC
Alarm switch
SPDT
Time delay filling
10 sec.
Time delay alarm
20 sec.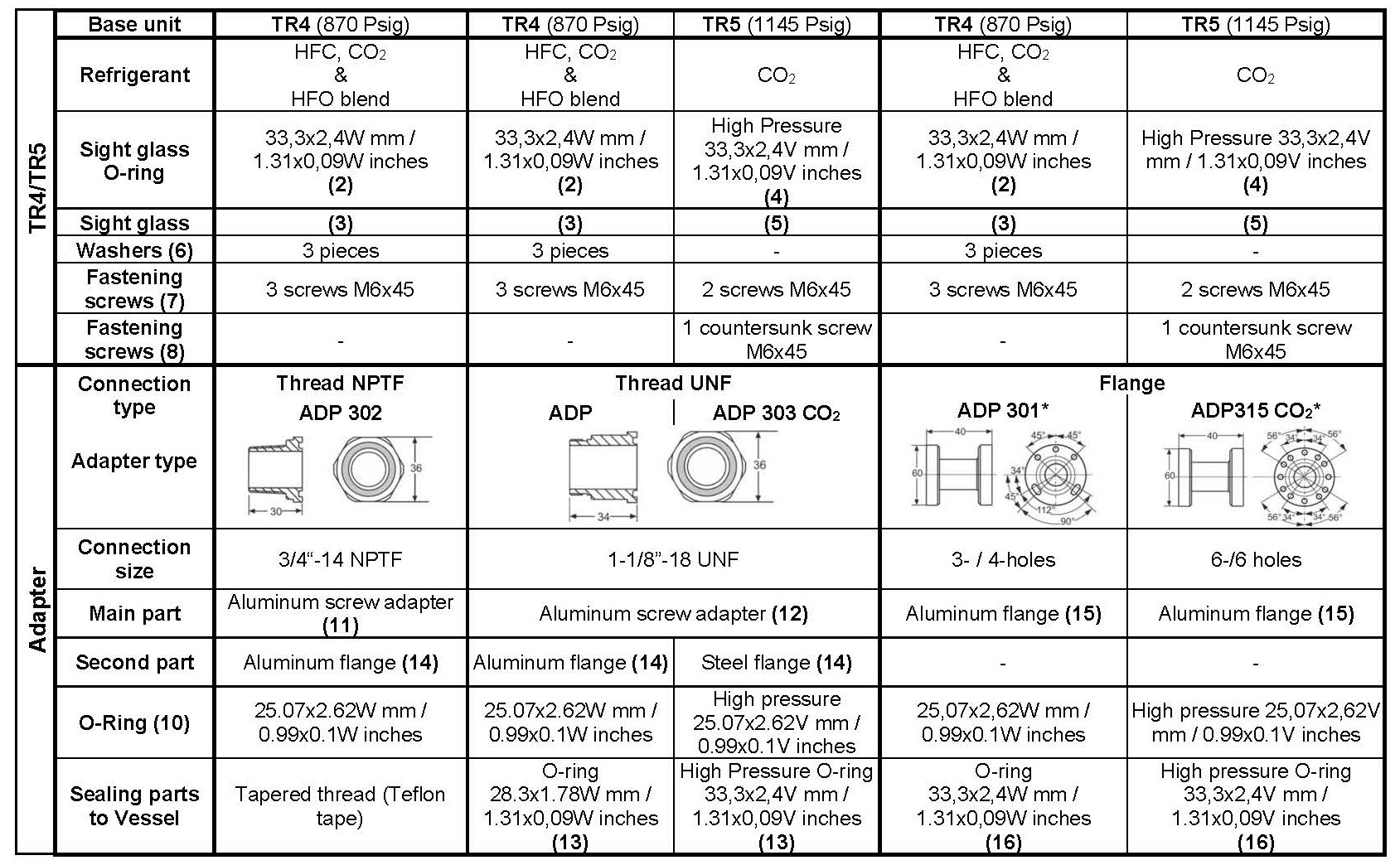 Note: The numbers in brackets correspond to legends of Fig. 1. (See Installation Instructions)
*M6 screws for fastening are not part of delivery. 
⚠ Safety Instructions:
Read operating instructions thoroughly. Failure to comply can result in device failure, system damage or personal injury.
According to EN 13313 it is intended for use by persons having the appropriate knowledge and skill.
In a severely contaminated system, avoid breathing acid vapors and avoid contact with skin from contaminated refrigerant / lubricants. Failure to do so could result in injury.
Before opening any system make sure pressure in system is brought to, and remains at, atmospheric pressure.
Do not exceed the specified maximum ratings for pressure, temperature, voltage and current.
Before installation or service, disconnect all voltages from system and device.
Note: Float contains lead and has to be recycled in case of disposal!