Temprite oil management components are designed to maintain a stable oil system with a minimum of maintenance and monitoring.
Oil Level Controls (OLC)
OLCs control the flow of oil to the compressor in multiplexed rack/pack systems to maintain crankcase oil at the specified level.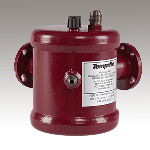 Both models of Temprite OLCs have dual sight glasses and can be mounted on either side of the compressor
---
The full line of TraxOil electronic OLCs are available from Temprite, the North American distributor for TraxOil.
---

Temprite oil return floats are externally mounted and include both hermetic and accessible.
---
For multiplexed rack/pack systems that require extra oil, Temprite manufactures four sizes of oil reservoirs.
Temprite has two sizes of reservoirs for CO2.
---
For use with coalescent oil separators.
---
Temprite has the right valve for any system.
Oil Pressure-Reducing Valves
High-Pressure Systems
Low-Pressure Systems
---

Service Valves
---
Resource Documents: