Compatible with all traditional refrigerants including ammonia (NH3) and subcritical CO2*
*To order ammonia-compatible models, change the last three digits of the part number to "717." Example: 092600000 changes to 092600717. Check with Temprite for metric sizes.
Maximum Working Pressure: 44.8 bar (650 PSI)

Part #

Model #

Oil Conn.
Size

A
Dim.

B
Dim.

C
Dim.

D
Dim.

E
Dim.

F
Dim.

Oil Charge
Amt.

092301000

923R

1/4″ SAE*

7/8″ ODS*
22.23 mm

11-5/8″
295 mm

19-1/2″
495 mm

4″
102 mm

3/4″
19 mm

6-1/2″
165 mm

77 oz.
2.27 Liters
*SAE = 45° Flare Connection, ODS = Outside Diameter Solder
THE CONNECTIONS ON THE OIL SEPARATOR MUST BE THE SAME SIZE AS (OR LARGER THAN) THE DISCHARGE LINE SIZE.
NOTE: All separators can be purchased with a Clean-Up® Filter installed by adding CNF to the end of the part number. When ordering with the Clean-Up® Filter installed you do not get a spare filter. Call for pricing and lead times.
300/900/920/920R Series Notes
For applications other than reciprocating and scroll compressors, (screw type, two-stage) please contact Temprite engineering.
920/920R Series Notes
All products rated for subcritical CO2 applications and R-410A applications (Max 650 PSIG).
The "R" stands for "Reservoir" and does not have a float to control oil return.  See Sizing.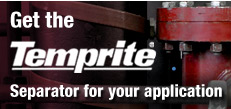 Choose the right Temprite conventional or coalescent oil separator using the Product Selector. Fill in the blanks with your system specifications and the Selector does the work. Selector results include details on the specifications input, allowing you to save and print your work.  Temprite's Quick Sizing Charts can be printed and downloaded.