For Every Refrigerant & Application
Temprite specializes in innovative, energy-efficient coalescent and conventional oil separators and refrigerant oil management products, including oil level controls and oil reservoirs
Temprite's 920 and 920R Series coalescent oil separators are ammonia-compatible and designed to make refrigeration systems clean and green.
Save on energy costs and reduce carbon emissions.

The 130 Series offers a range of CO2 compatible products including filter/drier shells and oil reservoirs and are especially efficient for large systems.
All 130 products are engineered for transcritical applications up to 140 bar (2030 PSI).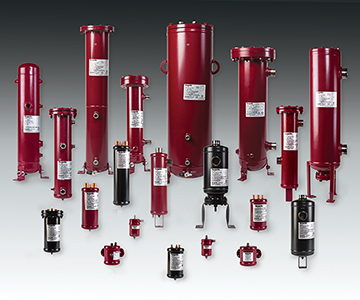 WARNING:
We have learned that counterfeit filters, gaskets and seals are being sold with false claims that they will work in Temprite oil separators.
These counterfeit filters are missing parts, have the wrong parts, incorrect size parts and/or do not have instructions.  They will not work in Temprite separators.
Look for the Genuine Temprite Products® logo or Temprite on the filter endcap BEFORE you use the product.
Contact us if you receive counterfeit filters.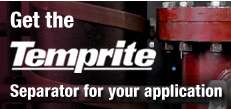 The Temprite Product Selector is the easy way to find the Temprite product that's right for your application. Fill in the blanks with your system specifications and the Selector does the work. Selector results include details on the specifications input, allowing you to save and print your work.
Temprite's Quick Sizing Charts can be printed and downloaded.



Use Temprite's Cost Savings Calculator to see how much you can save on energy costs with Series 920 or 920R coalescent oil separators. Input your medium- or low-temperature application information and the Calculator will give you savings both per unit and chain wide. Click here to use the Cost Savings Calculator.