The links below offer technical resources for Temprite products and oil separation in general.
Translations: The resource documents below in 

bold red type

 are available in Español, Française, Deutsch, Türk,

日本の

, Русский,

中国

, and

中國

. The documents that are not in bold are in English.
Click the links below to view, download as a PDF, and print.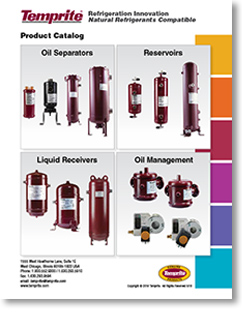 Temprite Catalog (2018)

Temprite Spanish Catalog (2018)
130 Series
Installation Instructions: Model 131 & 300 Series
Installation Instructions: Models 133A-139A
Standard Filter Replacement Installation Instructions: 130 Series
Clean-Up® Filter Replacement Installation Instructions:130 Series
Sizing Chart: 130 Series for Natural Refrigerants: Transcritical & Subcritical CO2, kW
300 Series
Installation Instructions: Model 131 & 300 Series
Sizing Chart: 300 & 900 Series: Tons
Sizing Chart: 300 & 900 Series: kW
Sizing Chart: 300 & 900 Series: Natural Refrigerants, Tons & kW
Sizing Chart: 300 & 900 Series: Ultra Low Temperatures, Tons
Sizing Chart: 300 & 900 Series: Ultra Low Temperatures, kW
500 Series
Installation Instructions: 500 Series
Screen Replacement Instructions: 500 Series
Sizing Chart: 500 & 600 Series: Tons
Sizing Chart: 500 & 600 Series: kW
600 Series
Installation Instructions: 600 Series
Sizing Chart: 500 & 600 Series: Tons
Sizing Chart: 500 & 600 Series: kW
900 Series
Installation Instructions: 900 Series
Sizing Chart: 300 & 900 Series: Tons
Sizing Chart: 300 & 900 Series: kW
Sizing Chart: 300 & 900 Series: Natural Refrigerants, Tons & kW
Sizing Chart: 300 & 900 Series: Ultra Low Temperatures, Tons
Sizing Chart: 300 & 900 Series: Ultra Low Temperatures, kW
920 & 920R Series
Installation Instructions: 920/930 & 920R/930R Series
Standard Filter Replacement Installation Instructions: 920 & 920R Series
Clean-Up® Filter Replacement Installation Instructions: 920 & 920R Series
Sizing Chart: 920 & 920R Series: Tons
Sizing Chart: 920 & 920R Series: kW
Sizing Chart: 920 & 920R: Natural Refrigerants, Tons & kW
Filters
Liquid Receivers
Oil Level Controls
PED Declaration of Conformity
Pressure Differential Indicator
Reservoirs
Shipping Weights
Torque Specifications
Valves
---
Oil Separation Technology & Information