TraxOil products are approved by the
major compressor manufacturers.
General Information:
All versions use a hall sensor to measure the oil level. A magnetic float changes its position according to the oil level. The hall sensor converts these magnetic field changes into an equivalent signal, which is used by the internal electronic to show the actual oil level with LEDs and activate the integrated solenoid valve to feed missing oil directly into the compressor sump. For application in refrigeration systems according to EN 378.
NOTES:
TR4 is developed for all traditional refrigerants and subcritical CO2.
TR5 is specially adapted to the requirements of transcritical CO2 systems and must be used with dedicated types of CO2 adapters.
An A-7 or Y11236C valve is not required with a TraxOil Electronic OLC.
Key Features
Digital processor with SMT components
Alarm relay can switch 24 to 240 VAC
CE approved, EMC emissions and immunity
UL approved
Meets European RoHS and WEEE directives
All timing functions are in true time
IP65 rated for dust and water
Waterproof cables with no wiring at TraxOil unit
No orifice restrictor
Danfoss coil and enclosing tube complete with internal solenoid seat
Tamperproof, cannot be adjusted in field
Set point levels use true levels with no timing overruns
Easily removable inlet fitting with built-in filter screen
Recommended by leading compressor manufacturers

Resource Documents:
Key Features
TR4 compatible with HFC refrigerants
TR5 compatible with transcritical CO2 system and R410A
IP65 rating with molded housing and cable assemblies
Supply 24VAC or 230 VAC
3-Zone Level Control using precise hall sensor measurement not prone to errors caused by foaming, or light, such as optical sensors.
SPDT output contact for compressor shut-down or alarming, rating 230VAC/3A
Easy installation by sight glass replacement and front/side mounting without nuts
Self-contained unit with oil level sensor and integral solenoid to manage oil level supply
LED alarm, status and level indication
Adapters suitable for various types of compressors
Recommended by leading compressor manufacturers
Operation
TR4 and TR5 are fully level controlled. The sight glass of each device is divided into three operational zones. When the level reaches the yellow zone (Yellow) the TR starts filling after a time delay of 10 sec. A further level drop to the red zone (Red) will switch the alarm relay after a time delay of 20 sec / 120 sec.
The current status is indicated with the 3 LEDs according to the following table:
Operating Condition/Status
Function
Contact Position
LED
Supply power is off or normal oil level (<50%)
OK
BK-BU close
BK-BN open

●

Green
Oil Level (close 40%)
Injection

●

Green


●

 Yellow
Oil Level < 40%
Injection

●

Yellow
Oil level too low < 30%
Alarm + Injection
BK-BU open
BK-BN close

●

Red


●

Yellow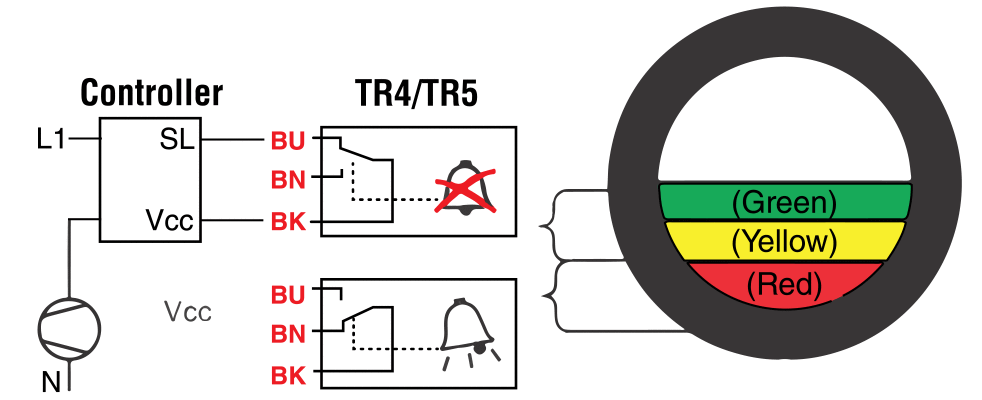 Technical Data
TR4
TR5
Max working pressure
870 Psig
1885 Psig (inlet), 1450 Psig (outlet)
Solenoid coils/Supply voltage
ASC3-24VAC: 24VAC±10%, 50/60 Hz, 17VA
ASC3-24V-60Hz: 24VAC±10%, 60 Hz, 35VA
Solenoid valve max MOPD at 24VAC -0%
435 Psig (50 Hz, ASC3-)

290 Psig (60 Hz, ASC3-)

1450 Psig  (ASC3-24V-60Hz)

Flow Rate and Differential Pressure between inlet and outlet TR5

(Oil type Reniso C85E, oil temperature 54°C)

0 Supply Voltage 24V -0% (60Hz)

Supply Voltage 24V -10%(60 Hz)

Current
0.7 A
Alarm contact rating
3A/230 VAC
Alarm switch
SPDT
Time delay filling
10 sec.
Time delay alarm
20 sec.