Compatible with Subcritical CO2 and Ammonia (NH3) upon request.*
*To order ammonia-compatible models, change the last three digits of the part number to "717." Example: 050600000 changes to 050600717. Contact Temprite.
Part #
Model #
Max. Working Press.
Oil Conn. Size
A Dim.
B Dim.
C Dim.
D Dim.
Oil Charge Amt.
Drain Port
050700000
507
44.8 bar
650 PSI
3/8″ SAE*
2-1/8″ ODS*
53.98 mm
16-1/4″
413 mm
21-1/4″
540 mm
6″
152 mm
20 oz.
590 ml.
1/4″
FTP*
*SAE = 45° Flare Connection, ODS = Outside Diameter Solder, FTP = Female Pipe Thread
THE CONNECTIONS ON THE OIL SEPARATOR MUST BE THE SAME SIZE AS (OR LARGER THAN) THE DISCHARGE LINE SIZE.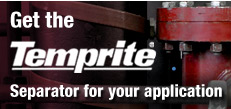 Choose the right Temprite conventional or coalescent oil separator using the Product Selector. Fill in the blanks with your system specifications and the Selector does the work. Selector results include details on the specifications input, allowing you to save and print your work.  Temprite's Quick Sizing Charts can be printed and downloaded.