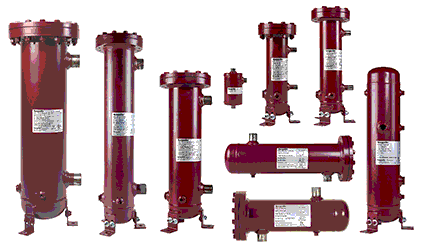 Temprite engineers work with customers and specialists in the CO2 field to develop innovative products that increase the efficiency and system life of leading-edge refrigeration technology.
 Let Temprite know what you need for your CO2 system. We can produce liquid receivers and other high-pressure components for CO2 applications to meet customer requirements.


Temprite has expanded its product lines to address the unique and challenging demands of CO2 systems. Building on the best attributes of Temprite's 920 and 920R Series* oil separation technology, the 130 Series of coalescent oil separators is designed specifically for transcritical CO2 systems and optimized for transcritical refrigeration applications.
* Both the 920 & 920R Series have been used extensively in subcritical applications up to 45 bar (650 PSI) for many years.
Performance Tested
The 130 Series are the first coalescing oil separators created for transcritical CO2 to undergo performance testing at internationally recognized testing organizations and have proven to perform the best of any filtration and separation technology. In addition to a range of five different sizes of separators, Temprite developed the RES7 Reservoir and the 48-2 Filter/Drier Shell specifically for transcritical CO2 applications.
The RES7 and RES17 are 7- and 17-liter oil reservoirs, each with a service rating of 140 bar (2030 PSI).
The 48-1 and 48-2 filter/drier shells have a service rating of 140 bar (2030 PSI). The 48-2 can handle one or two size 48 D filter/drier covers.
Model 139A Designed for Larger Commercial Refrigeration Systems
The new 139A separator brings maximum thermal efficiency to large CO2 refrigeration systems. With twice the separation capacity of the Model 137A, large-rack refrigeration users may find that one 139A will replace two 137A oil separators.
Model 138A: Increased Capacity in Same Space
The new Model 138A has 1.5 the capacity of the 137A, yet is the same diameter and doesn't require additional floor space.
Resource Documents:
Temprite Customer or Technical Support: Contact Us.