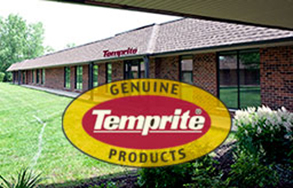 Temprite specializes in innovative, energy-efficient coalescent and conventional oil separators, and refrigerant oil management products including oil level controls and oil reservoirs.
Every Temprite product is engineered and manufactured to enhance total thermal efficiency while reducing carbon emissions and providing the highest possible return on investment. Temprite products are the solution to rising energy costs, longer system life and reduced carbon emissions. Each component is designed to make refrigeration systems clean and green.
---
Refrigeration Innovators
Founded in 1924, Temprite was a pioneer in the refrigeration industry and one of the first companies to specialize in refrigeration components. Early Temprite products included beer coolers and dispensing valves for soda fountains and water coolers.
But the Temprite reputation for innovation arose when the company originated some of the earliest refrigeration components including the conventional oil separator in its current configuration: Every conventional oil separator is a copy of a Temprite oil separator.
In 1988, Temprite was the first company to design and manufacture coalescent oil separators and oil reservoirs with the introduction of the high-efficiency 900 Series. The 920 & 920R Series were developed in 1990-1991 to meet customer needs for energy savings, lower carbon emissions and increased system life.
Today, Temprite is a premier brand name in the industry. Building on decades of experience in manufacturing components for the refrigeration industry, the Temprite tradition of innovation continues with energy-efficient coalescent and conventional oil separators for every type of refrigerant, such as the 130 Series for CO2 and the ammonia-compatible 920 & 920R Series.
Temprite's Commitment to Customers
Temprite will provide the highest quality refrigeration component products available, as well as the best operational specifications available, worldwide.
Product Certifications
Since December 2001, all products conform to the European Pressure Directive (PED). As customer refrigeration systems can vary greatly, each Temprite product is tested both on in-house test beds and in the field, using a variety of parameters. Every time there's a new standard to meet, Temprite products help customers meet it. Temprite products carry one or more of the following certifications: UL, ULC, CE, CRN, ASME, KHK.*
*Contact Temprite for specific product certification details.
International Distribution
The Temprite plant is located in West Chicago, Illinois, USA, with distribution facilities in Tokyo, Japan; Glasgow, UK; Stuttgart, Germany; Ankara, Turkey; Bangalore, India; and Sydney, Australia. Temprite has worldwide distribution through wholesalers and direct sales to original equipment manufacturers, retailers and medical organizations, and through strategic partners in the United Kingdom, Japan, Germany, Turkey, India and Australia.