New Combination Connection Options available: ODS or BW
Installation Instructions:  ODS/Butt Weld Connections
* FPT=Female Pipe Thread, MPT=Male Pipe Thread, BW=Butt Weld, ODS = Outside Diameter Slip
** Combination connector options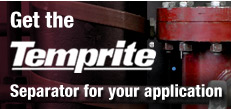 Choose the right Temprite conventional or coalescent oil separator using the Product Selector. Fill in the blanks with your system specifications and the Selector does the work. Selector results include details on the specifications input, allowing you to save and print your work.
Temprite's Quick Sizing Charts can be printed and downloaded.
Resource Documents:
Temprite Customer or Technical Support: Contact Us.